Boing Boing comes through yet again with a very interesting site dedicated to lampooning those horrible, one-sided EULAs. Claiming they are likely not enforceable, this site is dedicated to helping the little guy fight back.
Here's the text of their Anti-EULA:
READ CAREFULLY. By [accepting this material|accepting this payment|accepting this business-card|viewing this t-shirt|reading this sticker] you agree, on behalf of your employer, to release me from all obligations and waivers arising from any and all NON-NEGOTIATED agreements, licenses, terms-of-service, shrinkwrap, clickwrap, browsewrap, confidentiality, non-disclosure, non-compete and acceptable use policies ("BOGUS AGREEMENTS") that I have entered into with your employer, its partners, licensors, agents and assigns, in perpetuity, without prejudice to my ongoing rights and privileges. You further represent that you have the authority to release me from any BOGUS AGREEMENTS on behalf of your employer.

They even have t-shirts, bumper stickers, and stickers you can add to your stationery, the backs of your checks, etc. Here's a sample of the t-shirts: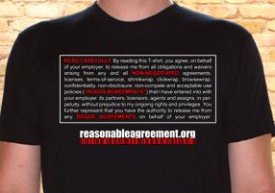 At the wrap up from the Winter Working Meeting, Chris Kunz mentioned they were contemplating another article on the enforceability of online agreements. They've covered how to get a binding click, and whether click free can still constitute a contract or otherwise bind a party. The next article is to be about modifying online agreements. Perhaps we should invite these guys to participate in the process. It would certainly make for an interesting discussion.
They even have a link to submit examples of abusive EULAs. I bet we'll find some good examples during the drafting process for the third article. Here's the
link
.
Finally, the profits from the sale of a lot of the paraphernalia go to
EFF
.

ReasonableAgreement.org